SYNTHETIC TURF CONTAINS KNOWN CARCINOGENS
Science shows artificial turf problems of heat, injuries, toxic exposures to humans and animals and more. Accurate information assists decision makers, parents and citizens determine what is acceptable, and at what cost, in the pursuit of a lovely and durable playing surface. Below is just some of what we know about the human health risks associated with synthetic turf fields.
SHREDDED WASTE TIRE = LEAD, ZINC, ETC
The spongy surface between the grass blades can be sand, cork/coconut, or plastic pellets but is typically made by pulverizing waste vehicle tires.
Synthetic turf contains unsafe levels of lead, mercury, cadmium and other known carcinogens. And despite claims to the contrary, synthetic turf is not environmentally friendly.
TOXIC CHEMICALS
Hazardous organic chemicals in rubber recycled tire playgrounds and pavers Review Article ; Chemosphere, 22 August 2012 ; Maria Llompart, Lucia Sanchez-Prado, J. Pablo Lamas, Carmen Garcia-Jares, Enrique Roca, Thierry Dagnac

Abstract: In this study, the presence of hazardous organic chemicals in surfaces containing recycled rubber tires is investigated... The analysis confirmed the presence of a large number of hazardous substances including PAHs, phthalates, antioxidants (e.g. BHT, phenols), benzothiazole and derivatives, among other chemicals. The study evidences the high content of toxic chemicals in these recycled materials. The concentration of PAHs in the commercial pavers was extremely high, reaching values up to 1%. In addition, SPME studies of the vapor phase above the samples confirm the volatilization of many of those organic compounds. Uses of recycled rubber tires, especially those targeting play areas and other facilities for children, should be a matter of regulatory concern.
PLASTICIZERS AND FLAME RETARDANTS
To obtain the look and feel of grass, the plastic grass blades must be softened with plasticizers. Additionally, they must be stabilized to prevent photo-degradation from the sun and made non-flammable by the addition of flame retardants. The grass blades still become brittle with time and exposure and blade fragments become part of the mix within the waste tire infill dust.
A single synthetic turf field using shredded waste tire infill on average can be expected to contain roughly 120 tons of pulverized tires. Tire manufacture is proprietary. Hence the complete contents are unknown. This data gap underscores the need to test waste tire infill and regulate synthetic turf surfaces as a children's product.
Dr. Joel Forman, Professor of Pediatric Medicine, Mt Sinai School of Medicine, puts it this way, "We've done a very poor job of testing these chemicals [found in synthetic turf carpets] to ascertain whether or not they are toxic. … And then when it comes to the more specific question 'What do we know about the impact of these chemicals might have on early childhood development?' - the answer is 'we have no information at all on about 80% of the chemicals.' Which is to say that every day, our children – and that includes fetuses, infants, young children – are exposed to a whole suite of chemicals of simply unknown toxicity which I consider to be an inherently risky business."
NANO PARTICLES FROM WORN DOWN SHREDDED WASTE TIRES
While the EPA is tightening standards for soot, it is allowing a pollution micro-climate to be created on these fields under the feet of children, in the space in which they breath, and as runoff into streams that impact water quality of drinking water and health of aquatic life.
Shredded waste tires contain dozens of complex hydrocarbons, heavy metals, carbon black and secret ingredients that are combined to create vulcanized rubber. The waste tire infill, once pulverized to bird-shot-sized granules, continues to break down through the friction of play and exposure to the unrelenting ultra violet light from the sun. As the waste tire infill is worn down to dust, every component and molecule within it can become airborne to interact with the natural and human environment. Think human inhalation and water transport.
Inhalation Risks
Synthetic turf is a rug made from plastic, plastic is made from hydrocarbons, and hydrocarbons are volatile compounds which evaporate quickly in the presence of sunlight and heat. Even though they exist in solid form, they still off-gas to the atmosphere – think of the new car smell on a hot day. From synturf.org: "The thermodynamics of the turf in winter and summer conditions accelerates the breakdown of the synthetic grass fibers and rubber crumb into dust particles, which easily can be inhaled or ingested by children. This is likely to produce respiratory and dermatological health risks in children."
From the Mount Sinai Children's Environmental Health Center (Feb. 2016): "There is a potential for toxins to be inhaled, absorbed through the skin and even swallowed by children who play on recycled rubber surfaces."
"The major chemical components of recycled rubber are styrene and butadiene, the principal ingredients of the synthetic rubber used for tires in the United States. Styrene is neurotoxic and reasonably anticipated to be a human carcinogen. Butadiene is a proven human carcinogen that has been shown to cause leukemia and lymphoma. Shredded and crumb rubber also contain lead, cadmium, and other metals known to damage the developing nervous system. Children may also inhale potentially harmful chemicals that have been detected in the air above rubber turf such as benzathiazole and polycyclic aromatic hydrocarbons (PAHs), both of which are linked to cancer."
Workers applying WASTE TIRE INFILL wear protective masks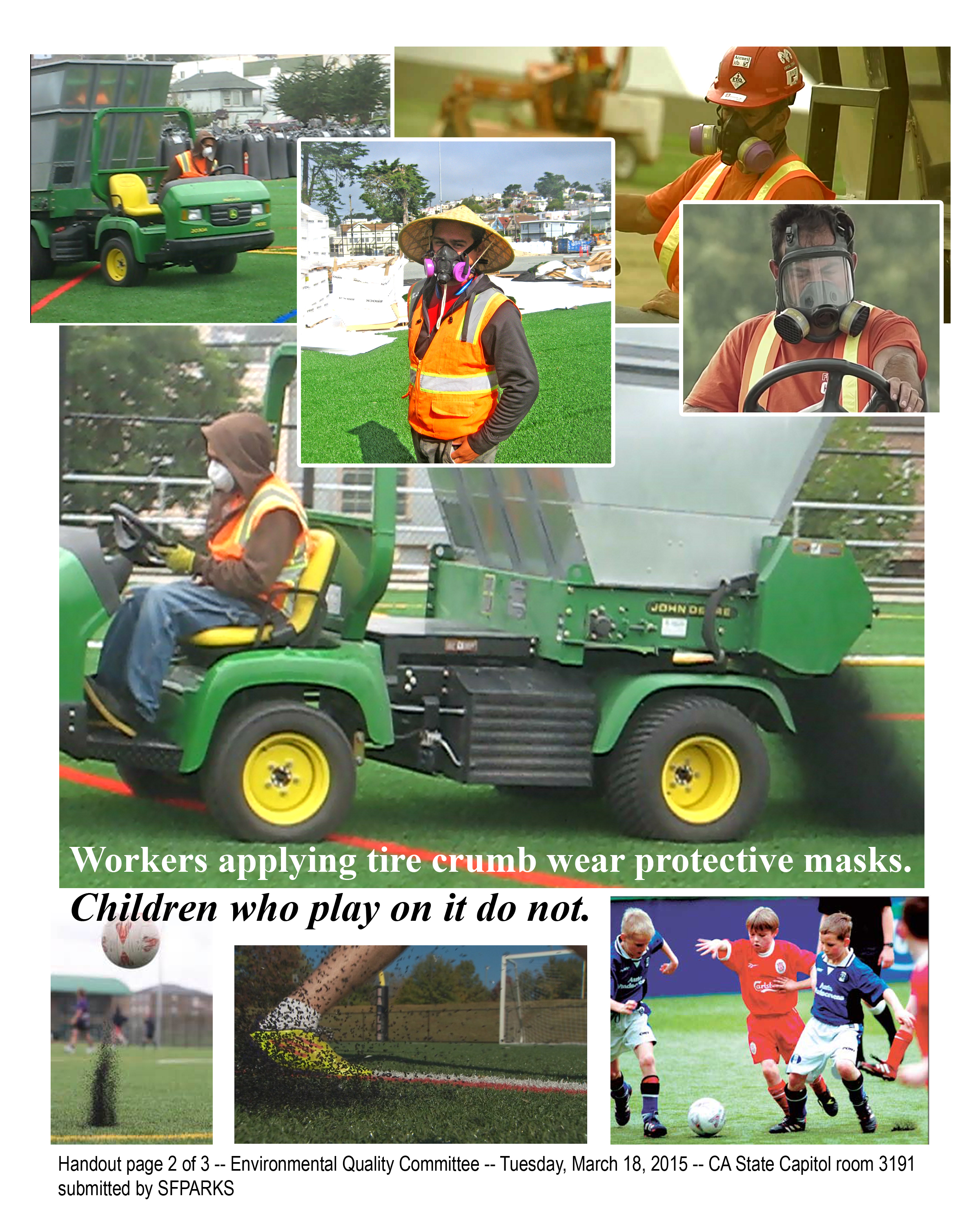 Reproductive Risks
Synthetic turf contains plasticizers, fire retardants and stabilizers. Shredded waste tire contains at least 60 complicated compounds. Small concentrations of these compounds mimic the hormones that regulate bodily functions and the changes they produce may not show up for decades. Fetuses are highly susceptible to the small exposures that their pregnant mothers may encounter, perhaps years earlier.
SYNTHETIC FIELDS REQUIRE DECONTAMINATION
TO PROTECT FROM MRSA
In addition, synthetic turf fields require decontamination to remove blood, sweat, mucous, animal droppings and food from plastic and shredded waste tire. These contaminants lead to higher risk of MRSA. (Check out these videos on dog urine removal and urine odor removal.)
Powerpoint by Joel Forman, MD, Associate Professor of Pediatrics and Community and Preventative Medicine, Mount Sinai School of Medicine
DOES SYNTHETIC TURF CAUSE CANCER?
NEWS: Toxicity & CheMICALS
WATCH: Synthetic Turf Fires
Friends don't let friends play on toxic turf!